4440 Easton Dr. Bakersfield, CA • Open Everyday 8AM-5PM
Directional Warning
Be Safe by Using the Proper Lights Necessary
High powered white LED spot lights come with a compact size that allows you to use it anywhere. Even if you have restricted space, it's great for spaces such as push bumpers, around the license plate, powerful and bright output. These lights can be mounted vertically or horizontally.
nFORCE Exterior LED Traffic Controller
The nFORCE Exterior LED Traffic Controller brings all of the outdoor elements to a stand-still in this powerful lightbar system. The modules that utilize white LEDs can be specificed as take-down, work lights or flood lighting. Manual dimming capability for nighttime use. Use of PC application in conjunction with SoundOff Signal sirens simplifies install with " plug and play" RJ454 capability.

nFORCE Interior LED Traffic Controller
Modules can be specified in any combination of single color 6 or 9 LED, dual color 12 LED or tri-color 18 LED counts, white LED modules can be used as take-down, work lights or flood lighting. Designed for interior use with manual dimming capability for nighttime use. Comes with cruise mode and mounting brackets are included.

UltraLITE Plus Exterior LED Warning Bar
Custom color configurations offered for exterior 4, 8 or 12 module bars, program up to 3 warning patterns on the 8 and 12 module dual/split color bars, UltraLITE Exterior LED Warning Bar is compatible with our directional arrow switch, includes adjustable height universal "L" brackets (pair) for dash/deck or headliner mounts w/ 14′ cable.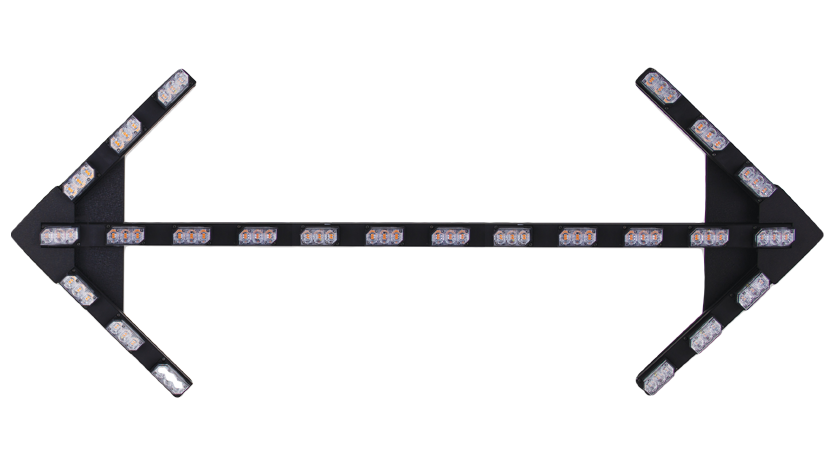 mpower Arrow System
3- or 4-module bracket (modules based on vehicle model), mpower 4″ 3-wire lights (quantity based on vehicle model), power/control harness.
Vehicles supported:
Chevrolet Suburban, 2015-2018

Chevrolet Tahoe, 2015-2018

GMC Yukon, 2015-2018

Ford Utility, 2011-2019

Plan of Action
Consultation Service
Prepare Quote
Quote Acceptance
Site Plan
Pre-Installation
Installation
Training
System Acceptance
Be Safe by Using the Proper Lights Necessary
You Mean More To Us Than Just a Sell
We have multiple types of lights and light bars. It all depends on what you are looking for and need, and that's why we are here for you. We have offer Beacons, Directional Warnings, Electronics, Interior Lighting, Light bars, Perimeter Lightening, Work Area Lighting and more. Our team is ready to help you get the best quality for what you need.
Place Your Order
When you are ready to place an order, either contact one of our technical sales representatives by phone or send us a message through our online contact form.   We are ready to assist you!
Installation
We offer installation services for all of our products and services requiring installation or programming.   Our technical installation crews travel!
Maintenance
We provide support before, during and after the sale.   We offer repair service, product maintenance and preventative maintenance services.   Let's keep your equipment in top notch shape!
Working Night Shifts
Our Dome LED Light is a great light for drivers working night shifts as LED dome lights offer low amp draw, superior efficiency and hours of long-lasting reliability.
Multi-Purpose Control Panels
Eight button programming and directional arrow function, 35 selectable icon stickers to clearly label panel, fully programmable buttons in ON/OFF or momentary switch mode, back lit rubber touch buttons, eight switch control panel with three 10 amp and five 0.2 amp outputs for auxiliary device power or function activation.
Wireless Remote Control Lightening
10 high flux LEDs, wireless remote control, 370° rotation x 135° tilt, 320,000 candela; max beam distance of 3,711 feet, 2.8 amps at 13.8 vdc, 8° beam angle, UV ray and saltwater resistant and weatherproof for land and sea applications.