4440 Easton Dr. Bakersfield, CA • Open Everyday 8AM-5PM
Thermal Cameras    
An Image View Detecting Temperature Changes
360° pan and 90° tilt
VGA 640×480
Electronic image stabilization
Certified for hazardous applications
Supports advanced analytics
A Thermal Network Camera helps you monitor employee safety and detect the unauthorized individuals in hazardous areas. These type of cameras can be used where there is a need for temperature monitoring, such as power generating facilities, fire hazard areas or industrial processes involving self-igniting materials. They can be installed on a wall or ceiling.
Explosion-Protected
Far + wide + sharp = accurate
XP40-Q1942 provides outstanding detection capabilities and fast and easy visual verification of the nature of detected events in order to enhance safety in restricted areas. A combination of 360° pan and 90° tilt capabilities and VGA 640×480 thermal resolution means that a single camera can capture events taking place in a large area and at great distance. In addition, thanks to a combination of dynamic histogram equalization, enhanced local contrast and dynamic sharpening, XP40-Q1942 improves image contrast for sharp video with great detail in all conditions. Typical applications include detection of people in restricted areas and safety of personnel in hazardous areas. Electronic image stabilization keeps the picture smooth even when the camera is exposed to vibrations. And shock-detection functionality is included as well.
The Axis difference
Like all Axis products, XP40-Q1942 supports advanced analytics solutions, from our partners, so it can be easily integrated into your production system. You can use it to monitor production efficiency as well as to visually inspect processes and verify that they're running smoothly. The camera can also be integrated with other systems such as your access control or fire-alarm systems to provide visual verification of events.
Hazard-certified worldwide
XP40-Q1942 is certified worldwide for use in hazardous explosion-prone applications. For example, it's ATEX, IECEx and UL certified. Its electropolished stainless steel enclosure contains explosions and prevents sparks from igniting vapors, gases, dust, or fibers in the surrounding environment. The UL certified models, XP40-Q1942 -50 C UL and XP40-Q1942 -50 C 110 V UL, offer two 3/4″ NPT conduit entries, while XP40-Q1942 and XP40-Q1942 -60 C models offer one M25 conduit entry. The UL certified models are available with either 24 V AC or 110 V AC power input. For more information, check the product specific datasheet.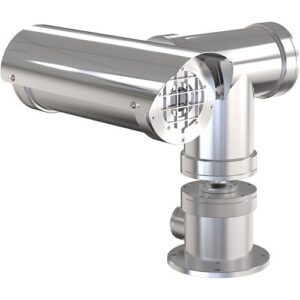 thermal Temperature station floor stand:
Main Features
One-piece Design for Quick Deployment and Portability
Galvanized Steel Construction
Hikvisions' floor stand is the ideal stand for the Access Control Terminal.
The floor stand weighs 6.7kg or 14.8lbs with the dimensions of
3.9″ x 52.8″ x 8.9″ made out of SPCC material.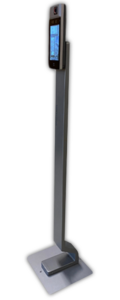 Outdoor wall mount bullet
Axis temperature alarm cameras can be used where there is a need for temperature monitoring, such as power generating facilities, fire hazard areas or industrial processes involving self-igniting materials. They can be installed on a wall or ceiling.
Main Features
Network camera – Helps achieve high-quality video results
Up to 720 x 576 video resolution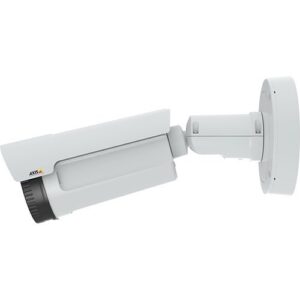 Thermal Turret
Hikvision DS-2TD1228-2/QA Thermal & Optical Bi-spectrum Network Turret Camera supports video analysis for perimeter protection, and also temperature exception alarm for early fire prevention. With the deep learning algorithm, it can realize high precision VCA detection and real-time alarm. These camera series can be widely applied to villas, communities, parking lots, warehouses, construction sites, waste incineration plants, manufacturing workshops, etc.
Main Features
For remote surveillance needs, this network camera is best suited
Provides night vision of objects at a distance of up to 49.21 ft
Features CMOS + Thermal sensor
Up to 2688 x 1520 resolution for surveillance in real-time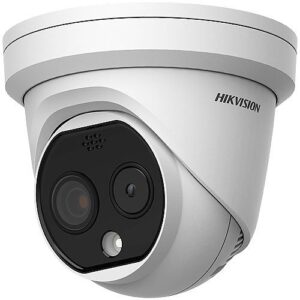 Main Features
Continuous 360° pan, ±90° tilt
VGA 640×480
Electronic image stabilization
Certified for hazardous applications
Supports advanced analytics
An Image View Detecting Temperature Changes
You Mean More To Us Than Just a  Sell
Our camera's technology provides crisp clear images in both color and B/W video in extremely low light conditions. It is an ideal solution for cameras that are installed in a low-light environment, and cannot rely on external lighting for image clarity. Coupled with a powerful IR built-in, our cameras can provide unparalleled details in total darkness.
Place Your Order

When you are ready to place an order, either contact one of our technical sales representatives by phone or send us a message through our online contact form.   We are ready to assist you!
Installation
We offer installation services for all of our products and services requiring installation or programming.   Our technical installation crews travel!
Maintenance
We provide support before, during and after the sale.   We offer repair service, product maintenance and preventative maintenance services.   Let's keep your equipment in top notch shape!
Multiple Packages
Continuous 360° pan, ±90° tilt
We can offer our cameras in 5MP, 4K, 2.1MP/1080P. Depending on what you are looking for, we can provide you with the best quality and proper product designs and features.
Accessories
There is a plethora of camera options. Regardless, we will help you in choosing the correct one you need. Additionally, there are so more pairing and accessories you can chose from to enhance your camera capabilities. 
What is the Universal HD over Coax?
Universal HD over Coax is the best way to upgrade an existing analog system to high-definition. Universal HD over Coax cameras and recorders can transmit HD-Analog, HD-TVI, HD-CVI signals up to 4K, and analog signals to 960H.